August 11, 2023
The Governmental Research Association (GRA), a national group of organizations and individuals engaged in government research and public policy, convened in Worcester, Mass., in late July for its 2023 annual conference. The conference provides GRA members with an opportunity to network, share research, hear from expert panels and receive recognition for their work through a peer-reviewed awards process. The following is a recap of the sessions covered at the conference. To learn more about the GRA or becoming a member, click here.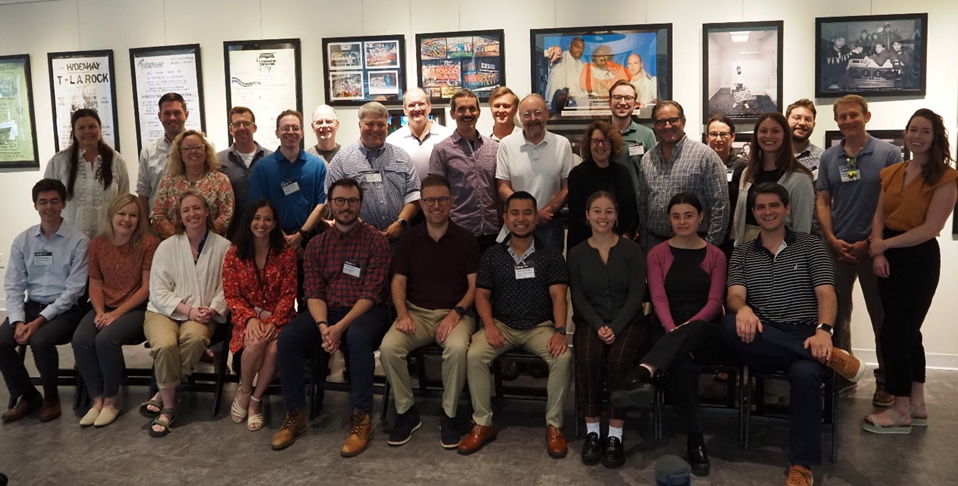 Housing
"Raising the (Amount of) Roofs"
Moderated by Leah Bradley, Executive Director, Central Massachusetts Housing Alliance
Featuring:
Chris Kluchman, FAICP, Deputy Director, Community Service Division, Massachusetts Executive Office of Housing and Livable Communities
Brian Iammartino, Managing Partner, btcRE & Adjunct Lecturer, Harvard Kennedy School
Shawn Teigen, President, Utah Foundation
Jeff Hornstein, Executive Director, Economy League of Greater Philadelphia
A panel on housing discussed issues surrounding affordable housing and homelessness in several areas around the country. Massachusetts has experienced challenges including a significant rise in homelessness in Worcester County, high housing costs and extreme competition for affordable housing units. Zoning is also entirely locally controlled. In Utah, survey results identified barriers to expanding low- and middle-income housing including zoning and neighborhood opposition to multi-unit housing. In Philadelphia, where 40% of homeowners are low-income, structural racism has a significant impact on the devaluation of property in neighborhoods of color, which then leads to other inequities. The panelists also discussed policy solutions including: removing zoning barriers and changing zoning codes to allow for more development; providing technical assistance for affordable housing development; improving permitting processes; reducing construction costs; and using creative ways to build aesthetically pleasing multi-family homes.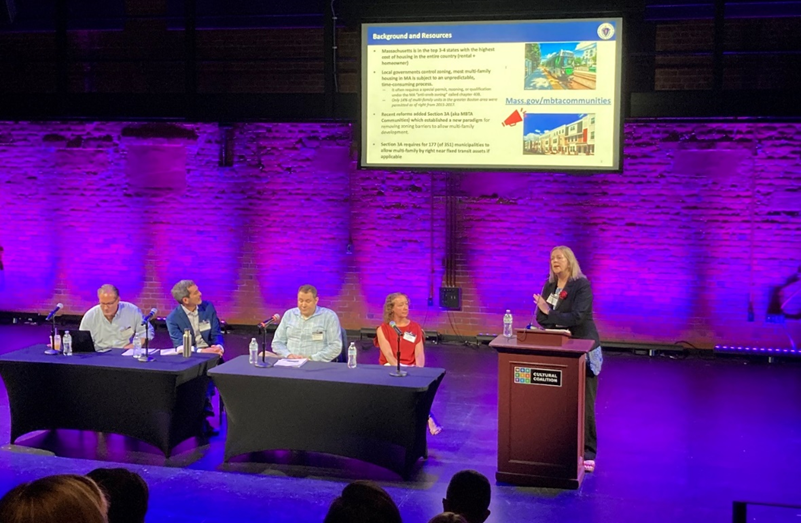 Public Transit 
"Let's Keep It Moving: Innovation in Public Transit"
Moderated by Annie McGowan, Deputy Director of Research, Civic Federation
Featuring:
Joshua Boucher, Ph.D., Research Associate, Worcester Regional Research Bureau
Sarah G. Boden, Senior Account Executive Transit Partnerships, Uber Transit
Monica Tibbits-Nutt, Undersecretary of Transportation, MassDOT
With federal COVID-19 relief funds coming to an end and lasting effects of the COVID-19 pandemic impacting ridership levels, transit agencies are facing significant challenges. This transit panel encouraged thinking about innovative transit solutions that better serve riders, improve equity and address climate change. The discussion shined a spotlight on Worcester's successful free public transit program, which has recently been extended another year into 2024. The free transit program has benefitted riders, who are generally low income, and has also led to a rebound in ridership. The discussion also explored the unique role Uber Transit can play in partnering with transit agencies to fill in transit gaps, especially during late night hours or in areas where transit is scarce, as a safe and cost-effective option. The panelists also considered the budget challenges transit agencies face, especially when competing with other government services for the same scarce revenue sources. The conversation encouraged valuing transit like other critical government services such as education and backing transit plans with sufficient funding.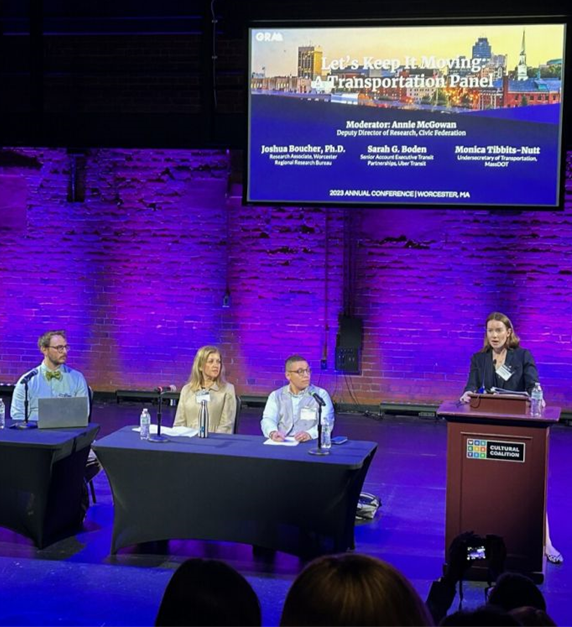 Education Funding
"Education's Fiscal Cliff Following ESSER"
Moderated by Mebane Rash, CEO & Editor-in-Chief, EducationNC
Featuring:
Colin Jones, Senior Policy Analyst, Massachusetts Budget and Policy Center
Sara Consalvo, Budget Director, Worcester Public Schools
Alexis Lian, Director of Policy, Rennie Center for Education Research and Policy, EdImpact Consortium
Jason Stein, Vice President & Research Director, Wisconsin Policy Forum
This discussion centered on how school districts have been using federal COVID-19 relief funds provided through Elementary and Secondary School Emergency Relief (ESSER), and the approaching "fiscal cliff" that many school districts will be facing after they have spent the funds. School districts across the nation experienced early challenges with figuring out how to effectively deploy the funds. Now the challenge is identifying replacement revenue sources after the funds run out. Panelists noted that in the early days of the pandemic, ESSER funds were used primarily to directly address immediate effects of the pandemic, such as purchasing protective supplies and equipment, building upgrades and remote learning technology. There has since been a shift toward academic recovery, such as spending on training and curricula. 
Worcester used its ESSER funds to purchase a fleet of 165 buses to bring busing in-house, as well as on technology, building and ventilation upgrades and initiatives to combat learning loss. Despite losing nearly a quarter of its student population in 2021, Worcester schools are now back to pre-pandemic student enrollment levels. The district has also benefitted from the State of Massachusetts approving a Student Opportunity Act to provide additional support to local school districts.
While the best practice would be to avoid using one-time ESSER funds for ongoing expenses like new staff and salary increases, the panelists noted there has been a trend toward using the money for ongoing operational costs in some districts. In Wisconsin, for example, school districts have used the money for ongoing costs because of limitations on growth in other tax revenue sources from the state and local property taxes. After ESSER funds are expended in two years, there could be referenda introduced to increase the tax limitations. The panelists highlighted the need for additional federal and state funding, including capital funding.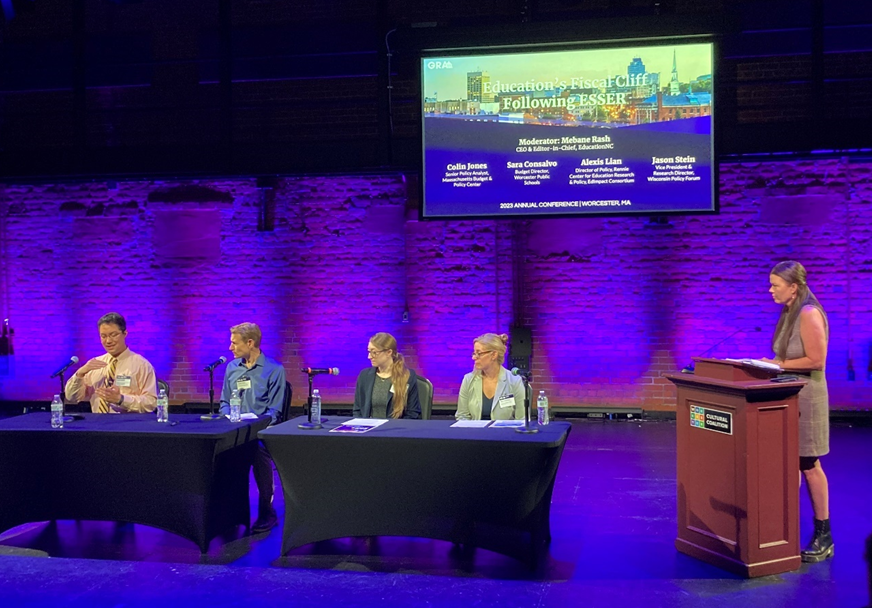 Food Equity
Micro-Session: "Food Security"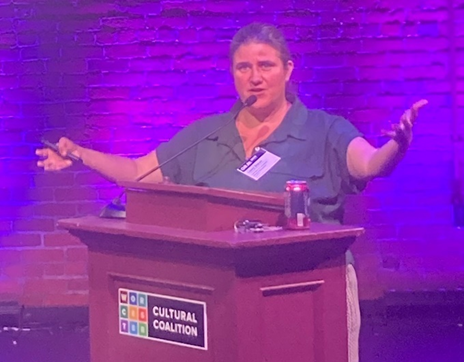 Casey Burns, Director of the Coalition for a Healthy Greater Worcester and co-chair of the Mayor's Taskforce on Food Security, presented on the issue of equitable access to food. She encouraged thinking beyond the simple concept of food deserts, which often ignores underlying factors that impact people's access to food. The three key social drivers that impact food access are: 1) a person's financial resources; 2) the amount of time someone has in the day to go grocery shopping and prepare food; and 3) access to federal benefits. She explained that there is a direct correlation between housing costs and food. Additionally, the extent to which someone has experienced cycles of oppression is a key determinant of access to food. Her organization works on data-driven strategies to create equity-based programs and policies to respond to needs, fill gaps and reduce barriers to SNAP benefits. 
American Rescue Plan Act Funds
"Tracking ARPA"
Moderated by Justine Oliva, Ph.D., Manager of Research, Rhode Island Public Expenditure Council
Featuring:
Doug Howgate, President, Massachusetts Taxpayers Foundation
Steven Stuart, Vice President & Research Director, Bureau of Governmental Research
Glencora Haskins, Senior Research Analyst & Applied Research Manager, The Brookings Institute
Peter Dunn, Chief Development Officer, City of Worcester
This panel discussion centered on the effectiveness of the use of federal American Rescue Plan Act funds provided to state and local governments nationwide in response to COVID-19, and how the funds are being tracked. Much of the ARPA funding was used to replace revenue lost as a result of the pandemic's economic disruption and to close budget gaps. In New Orleans, the relief funds helped the city to close budget gaps and increase fund balance. The city also has shifted to spending on recovery programs and priority projects. Online dashboards have been tracking the progress of their funds. Worcester too has been able to track its ARPA funds with an online dashboard.  Brookings additionally has an ARPA tracker for local governments. The challenge for Worcester has not been the tracking of funds, but rather, the accountability requirements associated with carrying out federal guidelines for federal grants such as the Community Development Block Grant and Housing and Urban Development. 
The question for many state and local governments after ARPA will be deciding which programs to continue and how to fund them going forward. States and municipalities will need to identify alternative revenue streams to continue staffing. Alternatively, in an effort to avoid setting up ongoing operations with unsustainable revenue sources, infrastructure is a good use of the one-time ARPA funds.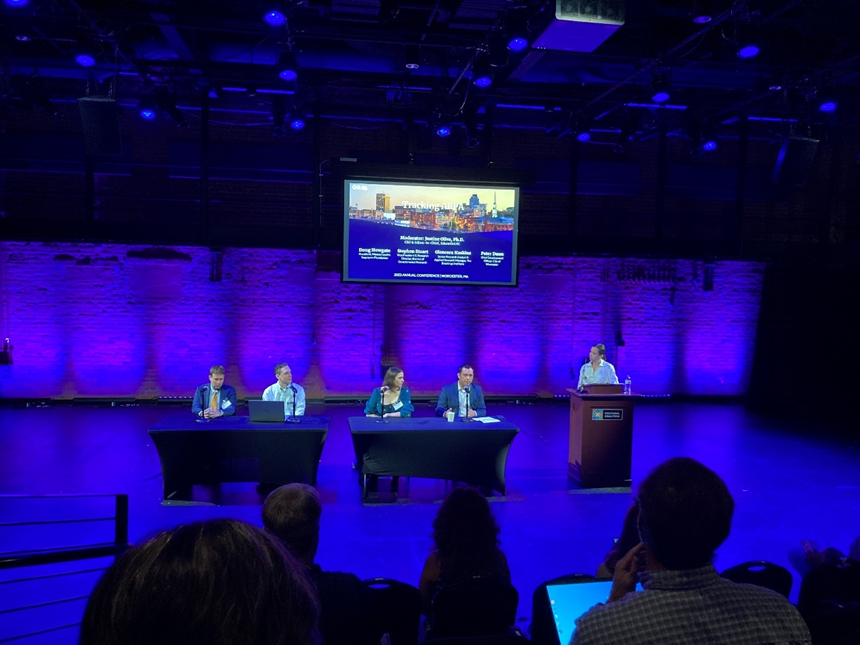 Public Sector Employment
"Public Workforce Shortage"
Moderated by Janice Ryan Weekes, Executive Director, MassHire Central Career Centers
Featuring:
Christine Baker-Smith, Research Director for City Solutions, National League of Cities
Nicholas Bolden, Ph.D., Founder & Chief Strategist, The Bolden Group
Abigail Milewski, Director of Workforce Planning and Strategy, City of Boston
William Bagley, Jr., Director of Human Resources, City of Worcester
Like other sectors, the public sector has struggled to return to pre-pandemic workforce levels due to difficulty recruiting young people into municipal jobs, a tight labor market, uncompetitive pay and early retirements. This workforce shortage presents challenges including delays or cuts to services and loss of institutional knowledge. Benefits like public pension plans are no longer as appealing as they used to be, as compensation and flexibility have taken precedence. Another challenge is an underrepresentation of BIPOC populations in government, especially within police departments. Solutions to these challenges as outlined by the panelists include retraining, offering incentives, taking advantage of federal funding programs, utilizing apprenticeship programs, allowing remote work, updating rigid and outdated job descriptions, and partnering with community organizations to help with recruiting for municipal jobs. 
Municipal Development
"Reinventing Worcester"
Moderated by Paul Matthews, Executive Director, Worcester Regional Research Bureau
Featuring:
Ché Anderson, Assistant Vice Chancellor for the City & Community Relations, UMass Chan Medical School
Harriette Chandler, Senate President Emerita, Commonwealth of Massachusetts
Timothy McGourthy, Chief Financial Officer, City of Worcester
Timothy Murray, President & CEO, Worcester Regional Chamber of Commerce and former MA Lieutenant Governor
Following a tour of several redevelopment sites, the GRA heard from a panel of local officials who discussed redevelopment in Worcester. With a population increase of 45% since 1980, Worcester, like other cities across the nation, is benefiting from an increasingly skilled workforce and growth in the service sector, including professional services. Still, manufacturing remains one of the top 4 industries in Worcester. Worcester is also very racially and ethnically diverse, and the growing immigrant population has become increasingly more involved as community leaders. The City is fairly young, with a median age under 35. Despite recent growth, though, it has been a challenge to create new sectors of the economy. The City also continues to be siloed by race as a longstanding result of the construction of a highway that racially segregated the city. Many residents are concerned about transit and housing issues.
The panelists highlighted the successes that have enabled a number of redevelopments to reinvent Worcester. The formation of public-private partnerships, quality urban design and planning for projects, preparing sites for development, and being shovel-ready before asking the State to provide capital funding were keys to successful projects. 
Frederick P. Gruenberg Award Honors Laurence Msall
At the conference's awards dinner, the GRA's 2023 Frederick P. Gruenberg Award for lifetime achievement was awarded posthumously to the Civic Federation's president, Laurence Msall. The Frederick P. Gruenberg Award is the highest honor that the Governmental Research Association can bestow on individuals who have made outstanding contributions to the field of governmental research during their careers. Acting President Sarah Wetmore accepted the award on Laurence's behalf and delivered a moving speech on Laurence's transformative legacy as president of the Civic Federation for 21 years.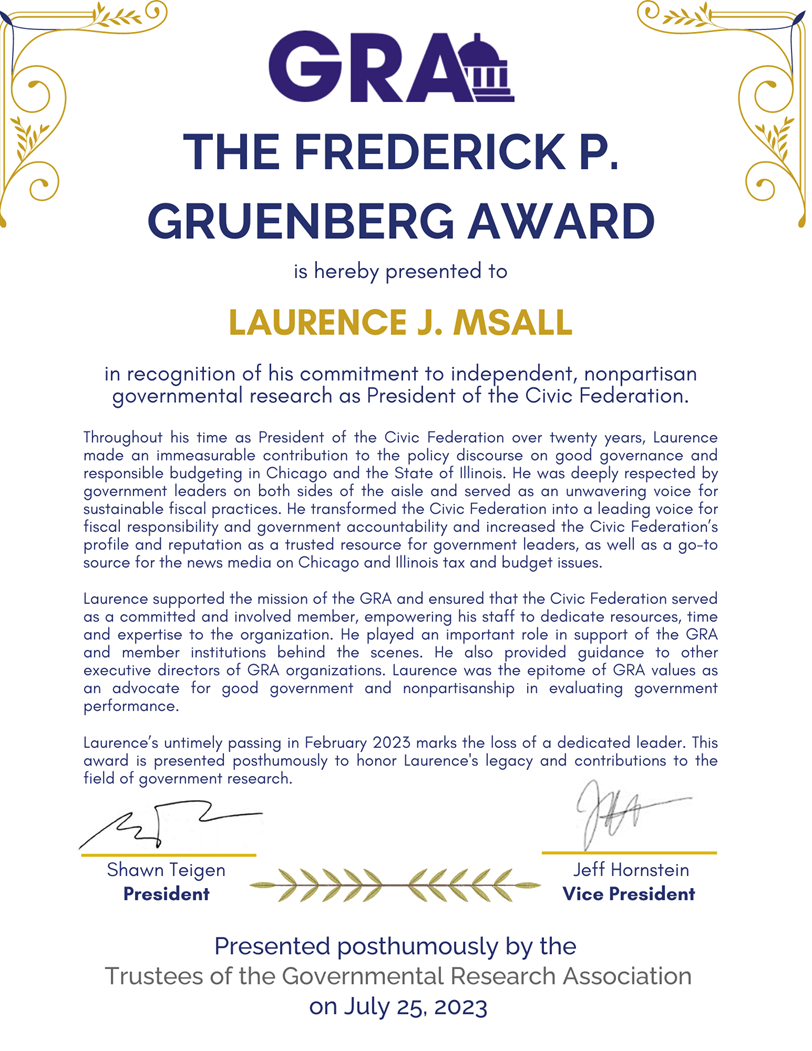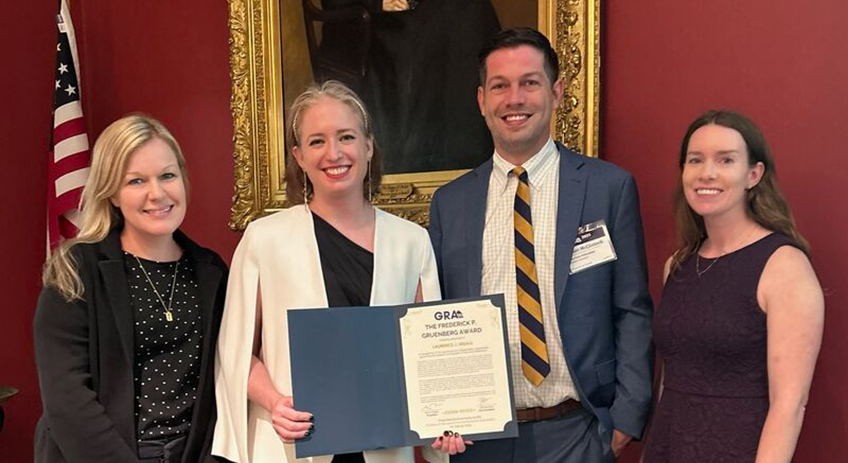 Left to right: Communications Director Linsey Maughan; Acting President Sarah Wetmore; Research Associate Grant McClintock; and Deputy Director of Research Annie McGowan.