June 23, 2022
CPS student enrollment has been declining annually for the past two decades. In a recent analysis of the Chicago Public Schools proposed FY2023 budget, the Civic Federation highlighted this trend. Specifically, the Federation pointed to an enrollment decline of 18.1% over the last decade, from the 2012-2013 (FY2013) school year to the 2021-2022 (FY2022) school year.
School funding at CPS is partially based on per-student enrollment. The District uses the 20th day fall enrollment from the previous school year to determine school budgets. To mitigate the financial impact to schools with declining student populations, CPS is providing additional funding to under-enrolled schools in FY2023 to ensure that no school will see core funding decline by more than 10% from the previous year. This includes $14 million in Equity Grants to 238 small, under-enrolled schools and an additional $5 million to severely under-enrolled schools.
The chart below shows the decline in student enrollment in the ten years between FY2013 and FY2022.  FY2022 represents the most recent data from the 2021-2022 school year, as FY2023 school budgets are based off fall 2021 (fiscal year 2022) enrollment. Enrollment fell from 403,461 students in FY2013 to 330,411 in FY2022. This is a decline of 73,050 students, or 18.1%. Preschool saw the largest decline in this period, at 37%. The smallest decline was in high school enrollment, at 6.8%. Elementary school enrollment decreased by 21.1%.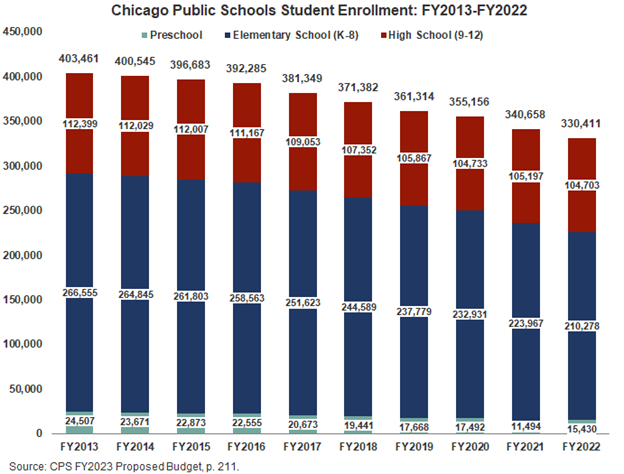 The enrollment decline is likely due to several factors, including population declines among black and Latinx communities in Chicago as well as lower birth rates. The COVID-19 pandemic contributed to a major decline in enrollment in 2020, especially among pre-k and kindergarten students.
From FY2021 to FY2022, enrollment declined by 10,247 students or 3%. Pre-k actually saw increased enrollment from 11,494 to 15,430 students, an increase of 34.2%. The FY2023 budget continues CPS expansion of universal pre-k, with an additional $10 million to add 29 new free, full-day pre-k classrooms. Both elementary and high school enrollment declined between FY2021 and FY2022. Elementary school enrollment decreased by 6.1% while high school enrollment only decreased by 0.5%.