June 14, 2023
INTRODUCTION
In 2023 Chicago voters elected Brandon Johnson as the City's new Mayor as well as a City Council with 13 new members. The City's new political leadership will immediately face five major fiscal challenges:
Recovery from the COVID-19 pandemic and the end of federal recovery funds;
Chicago's public safety crisis;
The City's chronically high liability burden;
Funding the City's enormous pension shortfall; and
The City's persistent structural deficit.
Addressing these urgent fiscal needs could crowd out spending for other government services. A solution will likely require spending cuts, new revenue sources or tax increases, financial assistance from the State of Illinois and/or new borrowing efforts. These fiscal challenges will be especially daunting because of reductions in revenue forecasts in Illinois and around the country and the possibility of an economic recession in the near future.
While these issues took many years to develop, they must be addressed in the next few years to stabilize the City's finances. It will not be an easy task and will require significant local political will and assistance from the Illinois General Assembly and Governor. This report lays out several revenue and financial management options that the Mayor and City Council could consider as they work to continue to stabilize the City's financial position.
Purpose and Structure of the Report
The purpose of this report is twofold:
To present information about various revenue options and other financial management options that could result in spending reductions or operational efficiencies for City policymakers to consider in the coming months and years to address Chicago's fiscal challenges. These options are presented for informational purposes only, with balanced arguments and issues to be considered for each one. Some of these concepts have been discussed during the Chicago municipal election campaign by candidates and other stakeholders and advocacy groups. However, the Civic Federation is not endorsing or taking a position on the ideas in this report.
To offer the Civic Federation's recommendations for consideration by the Mayor and City Council aimed at addressing structural and process issues, budget and management issues and transparency issues. The Civic Federation has endorsed these recommendations in our public statements, media commentary and other reports, including our annual analyses of the City of Chicago budget.
It is important to note that many of the ideas presented in this report will require approval of legislation by the Illinois General Assembly and the Governor. This is appropriate as the State of Illinois created or contributed to many of the problems faced by the City of Chicago, such as pension funding shortfalls. In addition, many proposals, if accepted, might have to be implemented in stages due to the size of the City's fiscal challenges.
Chicago faces a number of social, economic and financial problems in addition to the five key fiscal issues identified above. These include:
Public corruption;
A lack of affordable housing;
Increased costs of sheltering and caring for migrants;
Uneven patterns of economic development;
Education performance and quality; and
Pressing financial issues facing the City's sister agencies including the Chicago Public Schools, City Colleges of Chicago, the Chicago Park District and Chicago Transit Authority.
While we acknowledge their importance and their impact on the City of Chicago's financial challenges, this report will not address solutions for these other critical problems.
Financial Management Options for the City of Chicago
The various financial management options for the City of Chicago discussed in this report are listed below along with an indication of whether each option would require authorization by the State of Illinois through legislation or if the City can implement them using its existing home rule authority. The Civic Federation takes no position on these options. They are presented in this report in order to advance public officials' and residents' discussions of Chicago's financial future.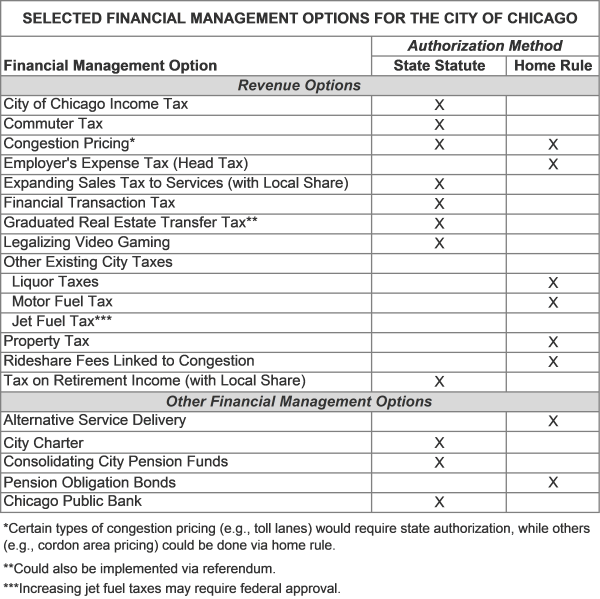 Civic Federation Recommendations
Below is a summary of major recommendations that the Civic Federation endorses. The recommendations are grouped into three categories: structural recommendations relating to the structure of City government; budgeting and management recommendations; and transparency recommendations.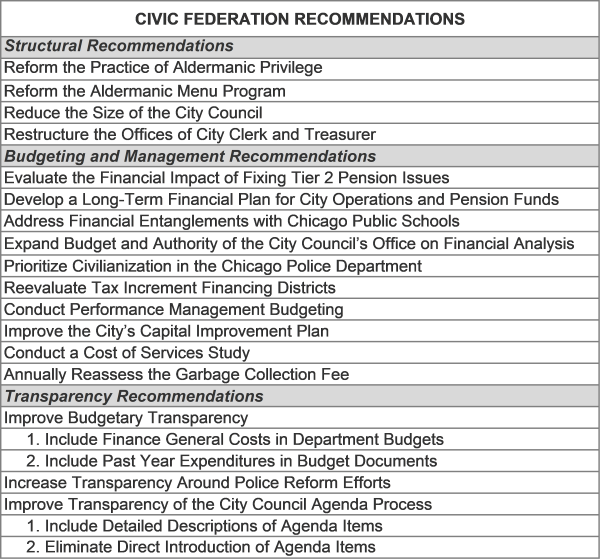 ---
RELATED
City of Chicago FY2023 Proposed Budget: Analysis and Recommendations